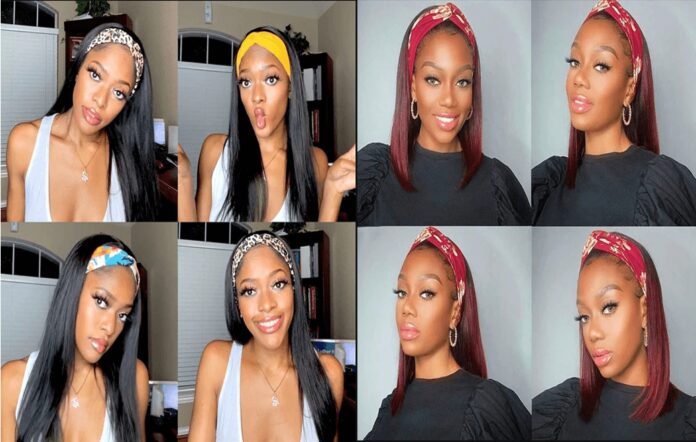 Living in a time when every good thing, from amazing deals to date meetups, is time-oriented, as a lady, you might have to do a lot to adjust to different timelines. It is assumed that ladies take the longest time to dress. But that does not have to be the case anymore when you can easily change your hair using no adhesive substance (glue) or passing by any specialized saloon. It is because in a headband wig, you find an unmentionable sweetness.
Apart from self-disagreement with the outfit you just put on, the other thing that delays most ladies in their bedrooms is styling their hair and trying to make it fit some unique design. So you don't have to struggle through all this when you can get yourself an affordable and beginner-friendly headband wig. Read ahead for more.
Top Most Trending Human Hair Headband Wigs
Despite the shiny texture of synthetic hair, only a genuine friend will tell you of human hair having an extended lifetime and many more benefits than synthetic hair. Here are some of the best headband wigs you should not let go if you ever come across them.
Body Wave Human Hair Headband Wigs
Did you know you can dress smartly without having to wear official or casual outfits? Your hairstyle alone speaks volumes about you, so you don't need to be extra smart for people to tell the type of person you are. So if you wore a body wave headband wig today and matched it with a denim jacket, that alone is enough to make bolder fashion statements for you.
It is because the body wave headband wigs tend to cover many parts of your neck and a bit of your shoulders recoloring your body's shape right from your neck. You can have this wig in various colors; however, the natural black tone is always the best.
Machine Made Straight Human Hair Headband Wig
Most ladies' confidence is attached to their hair, and that's why you hardly leave the house in disheveled hair. However, you can't fail to second the fact that styling the same hair every other time is not a piece of cake, more so when you have a spot on your neck or face that you intend to cover. It's never successful, but you don't have to struggle anymore. The machine-made straight headband wig does everything for you.
All you need to do is direct its fall to your desired style, and you'll be good to go. It comes in natural colors and soft texture that achieves a seamless look on any face shape.
Short Bob Burgundy Headband Wig
The Burgundy headband wig is famous for its super soft feel, which maintains the softness even after coloring. You don't have to get the short bob type if you are unsure about it matching your outfit since the Burgundy comes in various sizes and styles. Instead, you can have the long straight type and rock your outfit.
Unfortunately, some saloonists discourage their clients about certain styles and designs, claiming unmatching facial shapes. But with a Burgundy headband wig, you don't have to be worried. It matches all facial shapes and almost all outfits to any function.
Lolly hair collections has more headband wigs for you, with some of them having slashed holiday prices. Make haste and get yours from their site today!