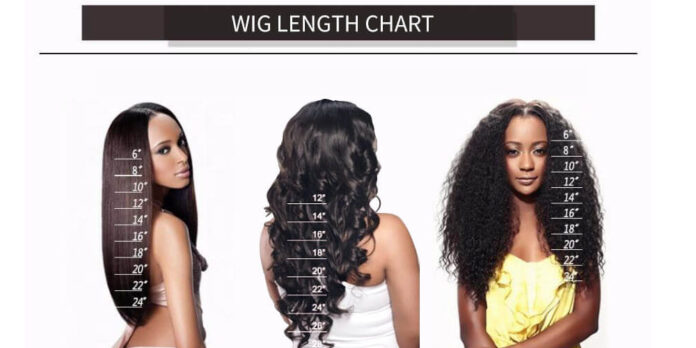 If you are in the market looking for a wig, then chances are you are conflicted about the length your wig should be. While body wave hair makes the wig look good in any length, you might not look good in all these lengths. For this reason, you need to figure out how you will get the right wig length for you. There are differences in the market, and you might end up feeling confused about them. To help you decide, here are the different pointers on choosing the right length when getting your wig.
1. Your height
Simply put, if you are short, then wearing a long wig is not recommended, and short wigs are not recommended for taller people. While this might seem a bit generalized, there is some truth.  When buying a wig, consider how tall or short you are and how the wig will look as you are walking. A short person having a long wig often looks imbalanced. You look like a young child playing with her mother's hair, which is not flattering. Measure the distance from the top of your head to your midback and pick a wig that is close to that length or slightly shorter. That way, they ensure the concept will look thought through.
2. Your face shape
Your face shape determines whether you will look good in a wig or not. For instance, women with a square shape look better in a short bob than those with a diamond shape. There are different sites where you can get pointers on how your face shape affects your wig length choice. Ensure you take the time and go through that before picking out a wig. Getting it in the wrong size will not bring out the good look you are after.
3. Your body shape
Your body shape is another thing that will determine how well you look in the wig. For instance, if you have an athletic build, getting longer and more feminine-looking wigs makes sense as they will bring out your features more. Getting a bob wig when you look athletic might make your look more masculine. If that is not the effect you are looking for, it is best not to try it.
4. Your hair goals
There are times when your hair does not grow the way you want it to for one reason or another. If you want to rectify that, then getting a wig works wonders. Get a wig that suits the length of hair you always wanted as you figure out a routine that will grow your natural hair. It might seem like cutting corners, but it has been known to serve the purpose for the longest time.
Last thoughts
Buying a wig is more than just looking at the hair used to make them. You also need to figure out if they are the right length and can suit you. With these pointers, you can rest easy knowing that you got a wig that fits and looks great on you.