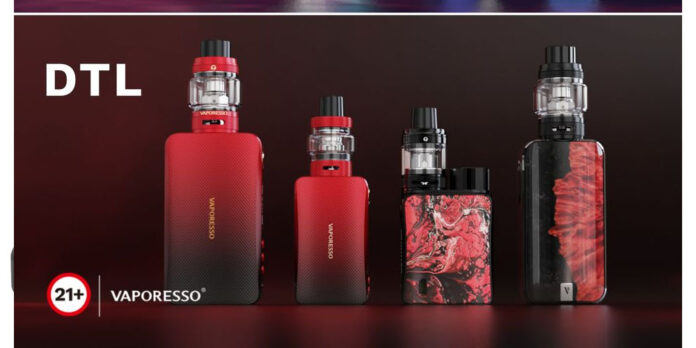 The vaping culture is more than just using a vape. There are different brands and methods of vaping you need to be accustomed to, especially if you are a beginner. Vapes are divided into two major types; Direct-to-Lung, abbreviated as DTL, and Mouth-to-Lung vaping (MTL). Both are essentially vape tanks. However, they have a few contrasts with advantages and disadvantages to them.
What is DTL Vaping?
Unlike Mouth-to-Lung Vaping, DTL vaping is a one-step process. The e-cigarette smoke is directed straight to the lungs, like normal breathing but with smoke vapor. It is considered the more effective vape in functionality as opposed to MTL vapes. DTL vapes are more favorable to skilled vapers as the smoke can be too intense for beginner vapers.
Different users have different preferences, although DTL generally performs better. You, however, get a lot less flavor when you inhale the smoke directly to the lungs and a much smoother feel.
Features of DTL Vape Kits
These vape kits are usually bigger than their counterparts. In most cases, they show the watt levels through the LED on the screen, which a user can use to adjust the level to best suit their vaping experience. In addition, the tanks have many coils and are kept at a resistance of 1ohm or lower.
The coils increase the heating temperature needed to heat the e-cigarette, producing heavy, thick vapor. Additionally, most tanks contain a feature to either fully close the airflow or allow some air to flow during smoking. Although DTL vapes are highly recommended for experienced vapers, some vape types are designed for beginners.
Beginner Friendly DTL Vape Kits
Below are several DTL vapes that beginner vapers can use.
1. The Yooz Uni
This brand has prefilled vape juice with an LED battery indicator. Its flavors are well balanced, and the tank can be reused.
2. Elf Bar
The elf bar is significantly smaller and requires no maintenance. The tastes are also easily likable to people just getting started with vaping.
3. Uwell Caliburn
This tank has an adjustable airflow feature and visibility to check liquid levels. The kit system is open hence can be refilled with vapor juice.
How to Use the DTL Tank
1. Place the vape kit directly on your lips and press the red button
2. Take slow and constant puffs directly to the lungs. A typical DTL puff should be at least 3 seconds and not be sharp.
3. Once the vapor reaches your lungs, blow out the cloud smoke clouds. For a fuller and better experience, you should fill your lungs to the maximum before exhaling.
Why DTL is Better Than MTL Vaping
Since DTL vapes have more coils than MTL, they produce more vapor at a much higher rate without the tank getting extremely hot. They also allow a better and looser airflow during smoking which can be advantageous for beginner smokers.
Conclusion
DTL vaping tanks have many more functional features than other vape kits and are generally preferred by experienced vapers. Unlike MTL, DTL vapes offer a much better experience with higher vapor production. Both vaping types have their advantages, and the selection comes down to the preference of the vaper.